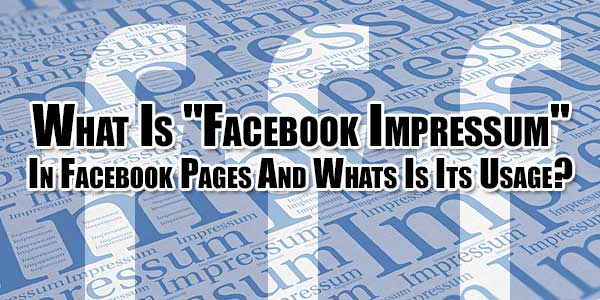 On the off chance that you go to you Facebook page settings you will see that there is an alternative to include "Impressum" to Facebook page portrayals. As of late Facebook included this peculiarity for its pages. "Impressum" is a Latin word embraced in German; which signifies 'Engraving', 'Credits', 'Legitimate Disclosure', 'Lawful Notice' or 'Explanation of Ownership'. It's essentially a fancier expression of 'about us' and 'Terms of Conditions (TOS)' pages. In numerous nations; for any App, Website, Online administrations or others Impressum page or segment is needed by law. Germany, Austria, Switzerland are among a few nations where its needed by law. However, Impressum should be written in accordance with your local law.
Keep in mind that it is not important to add in your page but in some countries, Pages are required to provide an Impressum Facebook. Now please check your local laws to learn what info you need to include.
What To Write In "Facebook Page Impressum"?
An Impressum section generally has these kind of basic information regarding your Facebook page;
Name of your Business or Organization
Address of the organization.
Contact data like; telephone number, fax number, e-mail.
Name of the holder or administrator of the page and the organization.
Registration, NTN, Tax# or Permit number(s).
Some DEMO "Impressum" Text:
Now if you still didn't got it then here we are linking some links of websites that have written there Impressum on there web so from there you can get the idea that what to write and how. Open every URL and see how they write it for there business. You have to write the same for your page.
http://www.bitwig.com/en/impressum.html
https://www.dlubal.com/en/impressum.aspx
https://www.mobility.ch/en/impressum/
http://en.leitner-ropeways.com/Company-profile/Impressum
http://www.sacredgates.com/impressum.htm
http://www.airstar.at/en/impressum/
http://www.frankeurope.com/eng/site-notice.html
https://alugha.com/en/impressum.html
http://www.glennjlea.ca/impressum/
http://www.faist.de/en/extranavi/impresum-haftung.html
http://the-egg-greece.com/impressum/
http://www.frankeurope.com/eng/site-notice.html
How To Add "Impressum" In My Facebook Page?
You can add Impressum in you Facebook page. For this just follow these instructions below;
Step 1:) Go to your Facebook Page and open About tab.
Step 2:) Now scroll below and find "Impressum" between "Short Description" and "Long Description"
Step 3:) Click "Input Impressum for your Page" in front of "Impressum".
Note: This is an optional field. In certain countries, such as Austria, Germany and Switzerland, businesses may be required by law to include a statement of ownership on their web presence. The limit is 2,000 characters.
Step 4:) Now add your "Impressum" text that you wrote by following upper guideline.
Step 5:) Click "Save Changes" and done.
This are simply fundamental data and more data will oblige relying upon your business and its administration sort and the built law of your nation. Individuals will have the capacity to see this data when they click the "About" connection beneath your Page's profile.
Last Words:
If you are running a big company or business then it is very important to add it and for more info please contact your Lawyer to get the perfect quote for your "Impressum". This is it what you have to know as basics. Stay with us to get more like this.