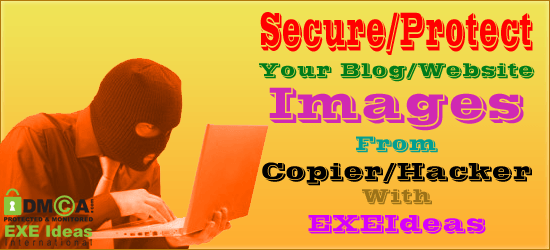 What's The Problem?
This is the 2nd article about "Secure/Protect Your Blog/Website From Content Copier". so we are here to protect your blog and website images from image copier that are so niche that even don't know what they are copying, they just copy your awesome image and paste it as it is to there blog post and even don't remove your title tag and alt tag because they did not have time to this or many of them even don't know to remove and changes the tags. But some of these know how to remove tags and change it with there own so for those we have another tip for you to secure and protect your images.

What To Do?
For niches type you have to add your website link in your image title or alt tags that are given below. And for high class image copier you have to add WATERMARK with your blog name or URL or copyright tag. From this the copier can't remove the watermark and the visitor will know easily that from which site this gut copy that awesome article and he will ,proceed to you in search of more awesome article like that. Before proceeding just have a look on the below image, It is a DEMO for you, I Have owned this image so i add a Copyright Text with my blog URL as a watermark, Add my blog URL in the image name (Right Click And Save To View This), Also add my Copyright Text with blog URL in the alt and title tag of the below image. Now this image is full secured. No niches can copy it with his name. I Also have a DMCA Account so i also make it officially secured with DMCA logo that will help me to down copies and thefter site too.
How To Do This?
If you want to add ALT and Title tag in your image then just add your image with the below code.
<img src="

YourImageURL

" alt="YourAltTag- © Copyright @ YourBlog/Site Name"  title="

YourTitleTag 

- © Copyright @ 

Your Blog/Site Name

"  height="250" width="250" />
And for adding watermark visit any of the below free online watermark adder tools with lot of function like add image in water maker or add text in water mark. You can also import your images from biggest sites too without downloading and uploading to these sites too.
http://editor.pho.to/
http://picmarkr.com/http://www.webwatermarks.com/
http://www.watermark.ws/
http://www.ivertech.com/freeOnlineWatermarker/freeOnlineWatermarker.aspx