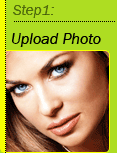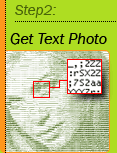 Photo 2 Text
Photo2Text is a simple web tool that lets you convert your images to text files and download download them to your computer.
Enter The Site
Render Images
Turn any photo or drawing into pop art in 3 easy steps. Our computer program converts pixels into text in SECONDS to make it look like you typed the image in on your keyboard in HOURS!
Upload your 60 by 50 pixel portrait ("Face photos work best") and the ASCII-O-Matic turns it into a text. ASCII-O-Matic will even provide the HTML to include plain text results on your web site. Click on the LH mascot's ASCII image on the right to get a closer look at the individual characters. Cool! Firefox users – make sure you allow pop-ups from the ASCII-O-Matic site to upload your own image. ASCII-lovers should also see the previously-posted
ASCII text art generator
.