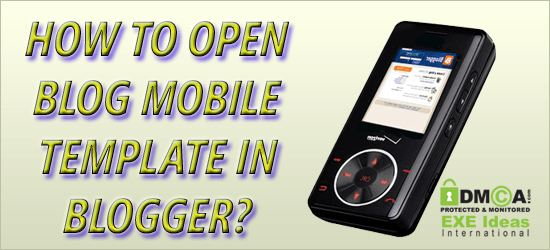 Blogger has launched a new feature for blogger blogs with which you can give a different view of your blog to the mobile web users. Now you can enable the mobile template for your blog which shows your blog in a more simple way without any big images, animations and advertisements on mobile devices.
You don't have to make any changes to your current blogger template, all you need to do is enable the setting on your blogger dashboard.As you know, millions of people use their mobile phones to access internet. The mobile internet speed is also very fast these days with 3G's , mobile apps,etc.
From this, we can say many of your readers are coming to your blog through mobile phones..But, if you don't make your blog mobile friendly, .you may lose all your mobile readers because in a mobile phone, a normal blog takes lot of time to load and there are other issues that your site not fitting properly in the mobile screen.
Because of so many readers on mobile phones in today's modern world, it's equally important for a webmaster and blogger to make his/her blog mobile friendly so that readers and followers with mobile phone should get smaller and lighter version of the site without slowing down the load time on mobile phones.There's a good news for blogger how use blogspot/blogger.com platform to manage their blogs. Blogger.com team recently announced Mobile Templates For Blogger Blogs.
Features:
1.) Quick To Load In Mobile.
2.) SEO Optimized By Blogger Itself.
3.) Awesome Prebuilt Template.
How To Add In Blogspot?
1.) Go To Your www.blogger.com
2.) Open Your Desire Blog.
3.) Go To Template.
4.) Click "Gear Icon" .
5.) Now Click On "Yes….."
6.) Then Choose Any Template Style, Preview It And Save.