Do you want to know the impact of food delivery app Personalization? The advent of hyper-personalization has sparked a significant revolution in the food delivery sector. So, to provide clients with a more individualized service, food delivery firms are leveraging data-driven technology and advanced algorithms to go beyond the scope of standard ordering and delivery methods.
The advent of hyper-personalization in the meal delivery space has opened a whole new world of convenience for consumers. Online food delivery revenue is projected to showcase a yearly growth rate of 8.29 percent, resulting in an expected market volume of U.S. $466,472 million by 2026.
So, the future of food delivery success will belong to firms that use data and technology to satisfy altering customer preferences.
What Exactly Is Hyper-Personalization?
Hyper-personalization customizes client experiences with big data and predictive analytics. Hyper-personalization leverages behavioral and real-time data to deliver contextual, relevant messaging beyond name, gender, and purchase history.
From where do they get this data and insights? They give consumers personas depending on the campaign and offer interactions. Each engagement opportunity with the right loyalty partner lets you build, evaluate, anticipate, and interact with these people.
A brand's ability to understand customer's current situations and meet their needs will determine new customer experience personalization. Whether trying to increase visits or automate user data-driven actions like tailored push notifications, data should lead your 1:1 and conversational efforts.
Advantages Of Hyper-Personalization For Restaurants:
There are many advantages of hyper-personalization. But at its most basic, it simplifies and streamlines the shopping experience for customers by reducing the number of steps it takes them to find what they need. Beyond simple customer information, the impact of food delivery app personalization is richer, deeper, and more practical than traditional advertising.
If a restaurant or convenience store takes a hyper-personalized approach, it may tailor its marketing to the tastes and interests of its targeted customers. And you foster a connection by satisfying their needs and motivating them to act swiftly.
Customers' unique preferences can be better understood by treating them as people rather than numbers. Using this information, you can enhance your offerings and provide a more satisfying stay for your guests, encouraging them to return.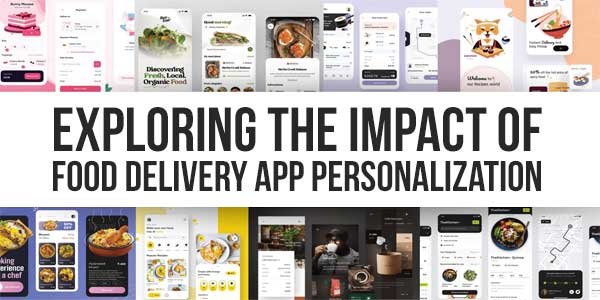 Top Food Delivery Apps & Restaurant Platforms That Have Realized Hyper-Personalization:
Here are some of the apps that have successfully used hyper-personalization:
1.) UberEats:
Since 2023, UberEats has been available in over 10,000 cities across 90 countries. Because of their market domination, many eateries are open to partnering with them. This scenario ensures consumers access to a wide range of eatery products, which fuels further expansion in the food delivery space and realizes hyper-personalization.
2.) Grubhub:
One of the most incredible food-ordering applications is Grubhub, which features listings from more than 30,000 eateries in more than 800 US locations. Grubhub maintains locations in the Windy City, the Big Apple, and the UK.
In 2004, Grubhub introduced its mobile app. The company's early entry allowed it to establish various alliances, and like UberEats, food delivery app personalization has helped it dominate the online food business space.
3.) DoorDash:
One of the most well-known meal delivery applications is DoorDash. It works in over 300 locations across 32 countries following the concepts of food delivery app personalization.
Consequently, Little Caesars Pizza, the third biggest pizza restaurant in the world, has partnered with DoorDash Inc. to offer online deliveries for the first time in the company's 60-year history.
4.) JoyRun:
On the surface, JoyRun is just another food delivery app, but it is highly unique. With JoyRun, anyone in the neighborhood may volunteer to pick up food instead of having to hire drivers.
Now, imagine you want a burger. With JoyRun, you may locate nearby diners who share your dining preferences. You may add your order to theirs; they will bring it to you when it is ready. Due to the app's focus on the community, application runners can decline payment for making deliveries.
5.) Sweetgreen:
Sweetgreen, a food delivery app solution, is the market leader in using locally sourced ingredients. Sweetgreen uses locally sourced vegetables, and with social media & events, it connects with customers more personally.
Sweetgreen hosts InstaMeets at local farms and runs local dinner clubs. Sweetgreen's primary mission is to introduce customers to high-quality and locally sourced food.
6.) CookUnity:
Cook-unity's Scalable concept takes delivery food to new heights. There are currently accessing 150 different meals available each week. With their business model, the top fifty or more best private chefs in New York City will make and serve you dinner in a biodegradable container.
A nutritionist is also available to offer guidance on how to make healthier food and beverage selections. Finally, they only use organic or locally grown foods.
7.) FoodPanda:
You may use the Food Panda app to place an online food order in 41 different countries. The Berlin-based company has established relationships with over 39,000 local eateries to ensure timely and personalized deliveries.
8.) Swiggy:
Swiggy, founded in Bengaluru, India, is a highly regarded SaaS-based food delivery app solution. Swiggy, with around 1.5 million downloads in the Google Play store, is India's innovative and popular online food delivery app.
9.)  Domino's Pizza:
Domino's is an iconic pizza delivery service, and its app is among the foremost in the food-based industry. You will not find a better user experience (UX) when personalizing and ordering a meal than with this app, even though it only delivers meals from one restaurant (its own).
Analyzing The Newest Trends In Hyper-Personalized Food Delivery Services:
The meal delivery sector is adapting to meet the rising need for flexible options by introducing cutting-edge hyper-personalized services. The most up-to-date developments in the food delivery industry provide clients with a novel and customized experience, from meal delivery subscriptions to various digital ordering alternatives.
Subscription Services: These services help bring ready-to-eat meals to your door from local restaurants and are becoming increasingly popular. If a customer has special dietary requirements (vegetarian, gluten-free, etc.), the restaurant will do its best to accommodate them.
Online Ordering: The comfort level and convenience of online ordering is expanding. Many eateries now feature online ordering options, allowing patrons to create personalized meals and have them delivered right to their doorsteps. In addition, several eateries reward repeat customers with special deals and freebies if they order online.
Mobile App Ordering: Ordering and paying for meal delivery via mobile apps is swiftly rising. Apps like UberEats, Grubhub, and DoorDash simplify meal ordering. These apps let customers see menus, change orders, and track real-time deliveries. In addition, the future of food delivery frequently provides VIP savings and perks for loyal customers.
These tendencies indicate a growing need for flexibility in the food delivery app personalization. As a result, businesses are providing clients with highly customized options that make online meal ordering a pleasurable experience. Customers now get personalized food delivered straight to their door thanks to the access of digital ordering through food applications.
Key Takeaways:
In this blog, we discussed the impact of food delivery app personalization. Hyper-personalization may seem like a marketing tactic that would work well in industries other than restaurants at first glance, but that is not the case. Context and advanced food delivery technology are both the key to hyper-personalization.
You can now initiate your own food delivery business with our online ordering and scalable delivery solutions. For affordable pricing and a free demo of our on-demand delivery solutions, explore DeOnDe.