Whether on Google, Amazon or Jameda: The goal of every company should be to be at the top of the search systems relevant to it. To achieve a good organic ranking in the long term, search engine optimization – SEO for short – is indispensable. We explain the most important SEO basics for high visibility.
What Is SEO?
SEO is a sub-discipline of marketing and, together with search engine advertising (SEA), forms search engine marketing (SEM). Based on a needs-based information architecture, SEO ensures a barrier-free web presence.
SEO pursues the goal of positioning the website documents relevant for the search engine high in the organic results.
SEO no longer only refers to the large, most common search engines like Google or Bing. Content should also be optimized for alternative search systems such as Amazon for product searches, Pinterest as a source of inspiration or Jameda for doctors.
Here it is important to identify the search systems relevant to you, to familiarize yourself with their requirements and to optimize your content accordingly.
How Do Search Engines Work?
Google bots (also called crawlers or spiders) scour the entire Internet and collect information on all documents found. These crawlers are automated programs that move around using links.
If a crawler finds links on a website, it follows them to other pages, collects information there and then follows the outgoing links again. The documents found are included in the Google index, along with all the information collected about these documents.
If a search query is made on Google, the Google algorithm finds all documents relevant to the search phrase in the index at lightning speed and arranges them according to relevance and popularity, considering various criteria. We then see this arrangement as search results.
When a search query is made, two things happen:
Based on the keywords used, the content is selected from the index that could provide suitable answers to the query.
This content is then sorted according to relevance and popularity and displayed as a search result list (SERPs).
Semantics plays an increasingly important role in the interpretation of search queries. Search engines are getting better at understanding the meaning of terms, user intention, and the context of a search.
This means that more relevant results that match the search intention can be delivered. It is therefore worthwhile not only to optimize for one keyword, but also to look at the entire subject area around a keyword and integrate it on the website.
Click Ratio By Position:
According to a study by Sistrix, 60 percent of all clicks are attributable to the first result, only 15 percent to the second and only 0.17 percent to the first search result on the second page. It is therefore essential to rank as high up as possible.
Most clicks are also on the organic search results: According to Rand Fishkin, this is around 66 percent in Google's desktop search in the US, while four percent are on paid results. Around 34 percent of searches are ended without any result clicks.
In mobile search, around 39 percent are organic results, three percent are paid results, and around 61 percent of queries are ended without clicks.
Search engines determine the relevance and popularity of a page based on various ranking factors. These ranking factors differ slightly from one search engine to another. Some of them are known, others are not. However, some SEO basics can be derived from known ranking factors.
SEO Measures: On-Page And Off-Page:
SEO measures are divided into on-page and off-page measures. On-page measures include all measures on the website. This includes, for example, adapting the meta information (title and description), optimizing the content (texts, images, videos, etc.), improving the information structure, or technical search engine optimization (e.g., faster loading times).
In contrast to on-page measures, off-page measures take place outside the website. For this purpose, off page signals are generated, for example through backlinks or mentions.
Now we come to the basic on- and off-page measures as well as specific application tips for you.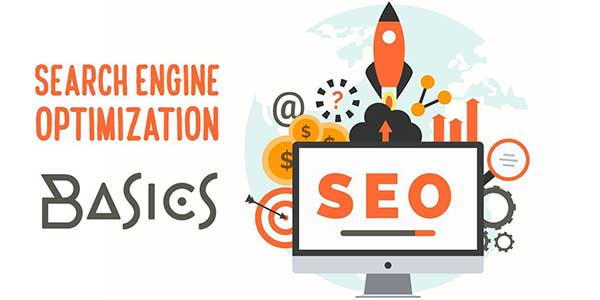 On Page SEO: Keyword Optimization
Keywords are the search terms that users use when searching the World Wide Web. These must be integrated on your own website so that search engines can recognize for which search terms the page can be displayed in the search results.
When implementing the keywords, it is particularly important to understand the intention of a search query and to use suitable keywords. Depending on the search intent, a distinction is made between these keyword types:
informational: information-driven search queries, for example "SEO definition"
transactional: transaction-oriented search queries, for example "download SEO guide"
navigational: navigation-oriented search queries, for example "YouTube"
In addition, a distinction is made between short head and long tail keywords. Short head keywords are generic terms like "dress". They have a high search volume and great competition. It is extremely difficult for these keywords to rank up front in the organic results.
Longtail keywords are usually made up of several terms. An example could be "long evening dress black strapless". They are therefore more specific and less exposed to competition.
They have a comparatively lower search volume. Overall, however, the long-tail keywords can lead to high and, above all, qualified traffic. Ranking in the top positions in the SERPs is easier than with short head keywords.
Keywords should be used sensibly in the right place and to the right extent. Now search engines are particularly good at recognizing and rewarding high quality texts, while websites with bad texts are penalized.
The days of mentioning a keyword for which you want to be found as often as possible (keyword: keyword stuffing) are long gone.
To research relevant keywords for your website and your target group, I can recommend the autocomplete function of Google and tools like answerthepublic.com or ubersuggest.io.
My Advice:
Also use variations and synonyms of your keywords.
Optimized for long-tail keywords that are relevant to you.
Also use the titles of the individual documents for your keywords. They are defined with the title tag.
Optimize your images with keywords to make it easier for search engines to read them! The most important keyword carriers are the image title, the file name and the alt text. By the way: text built into images cannot be read by search engines.
On Page SEO: Page Architecture And Document Outline
It is important that you structure your website clearly. In this way you can ensure that both your users and search engines find their way around and understand exactly where they can find what information. Clear navigation and appropriate internal links help here.
To structure your documents (document outline), there are six H-headings (heading tags), which are marked with H1 to H6 and sorted according to their relevance.
H1 is the most important heading, an H2 is shown smaller and rated as less important by users and search engines. However, they contribute to the legibility of the text and help to find information that is only relevant for certain readers.
My Advice:
Do not forget to link internally from the editorial content or the category texts.
When navigating and making internal links, make sure that all relevant content from the start page can be reached with no more than three clicks.
Uses H headings to structure the content of individual documents.
Always uses only one H1.
Include your keywords in your headings, because these are considered more important than the rest of the text.
On Page SEO: URL Structure
The URL or Internet address of your website is often the first point of contact for users and search engines. Therefore, it should be easy and quick to interpret.
My Advice:
Keep the URL as short as possible.
Add the most important keyword to the URL for which your website should be found.
Write everything in small letters in URLs and connect individual words with hyphens.
Avoid special characters like &, % or $.
OffPage Link Generation:
Search engines measure the popularity of websites primarily through links. Therefore, link generation is the most important off-page measure for any website. If another website links to your site, search engines will consider this link a direct recommendation for your domain.
So the more people link to your website, the more recommendable it seems.
This is especially true if the pages that link you are trustworthy or particularly popular themselves. It is a great challenge to develop an ongoing strategy to expand your own backlink profile. Measures in this direction achieve sustainable success about SEO.
My Advice:
Generate high-quality content that your users would like to share (expert tips, clear infographics, funny memes, etc.).
Use social media to spread your content.
Analyze who mentions your website online without linking it and asks whether the operator has added a link afterwards.
Write your website in your email signature, on business cards and other information material. Reach can be generated online.
Further SEO Measures:
There are several other SEO measures that you should also take a closer look at:
§  Indexing Management:
The aim here is to allow or forbid search engines to index certain documents (see robots.txt, Robots Meta Tags, .htaccess file).
§  Loading Times Optimization:
The fast-loading time of websites is becoming more and more important. Avoid, for example, large files and unnecessary scripts.
§  Mobile Optimization:
Your website should be able to be viewed on a large screen as well as on a tablet or smartphone (responsive web design).
§  Snippet Optimization:
A snippet is the representation of your website in the SERPs and therefore an important traffic generator. Snippets consist of the title, the URL, and a description that you can customize.
Conclusion:
If you want to be found in the various search systems, SEO is an important marketing tool. Identify the search systems relevant to you and optimize your content for them.
Small changes can have a big impact, but one-off measures are not enough. SEO means that you must work continuously on your content to achieve good rankings in the long term.