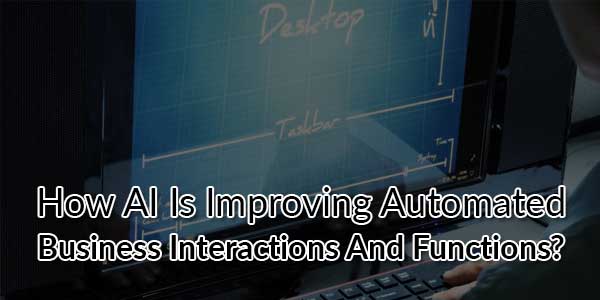 Once personal computers started becoming a household item, back in the 70s and 80s, efforts were underway to begin cracking the code to creating artificial intelligence (AI). Originally, the first attempts at machine-based learning made it possible to do low-level data analysis and some degree of automation. Today, AI-systems and machine learning are being more heavily integrated into everyday business practices. The following are a few ways AI is improving how business is done today.
AI And Tedious Tasks:
Where AI excels is in the area of automating redundant, tedious tasks. When the steps of a computational process can be reduced to a simple computer algorithm, it becomes relatively simple to turn this kind of task over to a computer. Additionally, a computer can zip through these kinds of procedures many times faster than a human will be able to do such tasks. This in turn improves performance and frees up employees to put their focus towards other areas of the business that cannot be so easily executed by an AI-system.
Round The Clock Functionality:
The advantage of having an AI-system working for a company is that these computerized machines do not need to rest or sleep. They can vastly improve production rates because AI-systems can work around the clock. Often all a human is needed is to check and perform quality assurance tests to ensure the AI-system is doing its job properly without failing.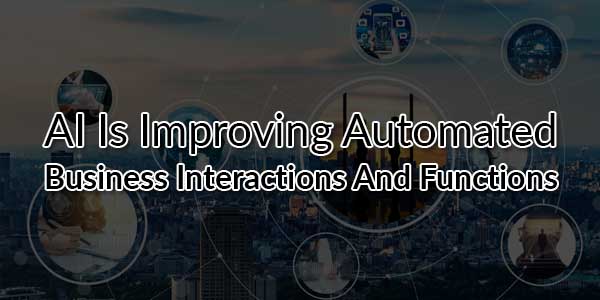 Entity Extraction:
One of the key ideas in making sense of text-based material is the ability to extract and categorize various elements of a text document. An AI machine may, for example, need to be able to identify names and perform name matching methods for a variety of business-related applications. Identifying and classifying other entities like appliances, car models, zip codes and other objects found within a text document makes it possible for an AI-system to build and do analysis on entire databases worth of information.
Communication:
As AI-systems get smarter, their ability to communicate with other AI-systems and humans improves considerably. It is now possible to have AI-based machines helping employees and customers on a number of different levels in a business capacity. Improved AI-communication opens many doors where AI-systems can engage employees, clients and other consumers to help meet any needs they have locating items of interest or acquiring other forms of information through a highly responsive verbal or graphical format.
Slowly, AI-systems are becoming involved in higher-level tasks and business functions. Instead of seeming strange, people today are growing more accustomed to engaging AI-systems in everyday commerce. Whether it is an automated voice over the phone or an AI-system in a store gathering and dispensing information, it is inevitable that AI-systems will soon be doing even more of the heavy lifting in many business-related areas of operation.