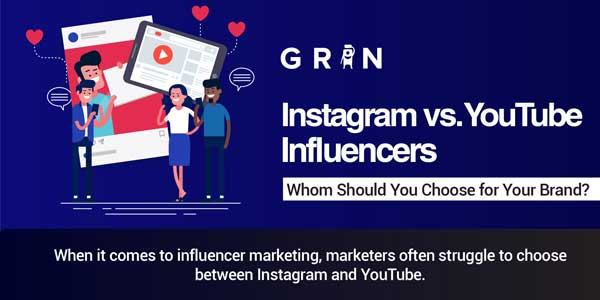 Your selection of a social media platform for influencer marketing campaign actually depends on some crucial factors. Such as your target audience, marketing campaign goals, and your product and/or services.
Are you confused which social media platform to select for your influencer marketing campaign? If so, then keep reading to find out if either YouTube or Instagram is best for your influencer marketing campaign.
Instagram Influencer Marketing Stats:
The number of monthly active users on Instagram is more than 1 billion.
By 2020, the influencer marketing industry on Instagram will surpass $2.3 billion.
4% of influencers chose to use Instagram Stories for sponsored marketing campaigns.
Influencers and brands can create content in the form of Instagram videos, photos, or Instagram Stories.
Industries like fashion, travel, lifestyle, and fitness do well on Instagram.
Example Of Instagram Influencer Marketing – Adidas Originals
Adidas has mastered their Instagram marketing game. They collaborated with some big names from the hip-hop industry like Stormzy, Kanye West, Snoop Dogg, and Desiigner. The objective was to establish Adidas as a key fashion brand in the hip-hop industry.
The campaign turned out to be successful because they teamed up with authentic hip-hop starts. This helped the brand reach to their target audience. In addition to this, it also helped Adidas to build credibility.
YouTube Influencer Marketing Stats:
As of 2018, the monthly active users on YouTube was 9 billion.
7 out of 10 YouTube subscribers say that they can easily relate to their favorite YouTube influencers.
According to the same study, 40% of millennials report that YouTube influencers understand them better than the people closest to them.
Influencers can either talk about the brand's product(s) in their YouTube Stories or post a video.
Industries like gaming, lifestyle, beauty, and technology do well on YouTube.
Example Of Youtube Influencer Marketing – Warby Parker:
Warby Parker is a pioneer in the try-at-home model in the glasses industry. They collaborated with lifestyle YouTube influencers like Stephanie to promote this model even further.
Stephanie shared her experience with the brand with her subscribers on YouTube. In the video, she promoted Warby Parker's low-bridge frames to her audience.
To learn more about YouTube and Instagram influencer marketing campaigns, you can click here.

This Infograph is shared here after legal permission from Grin