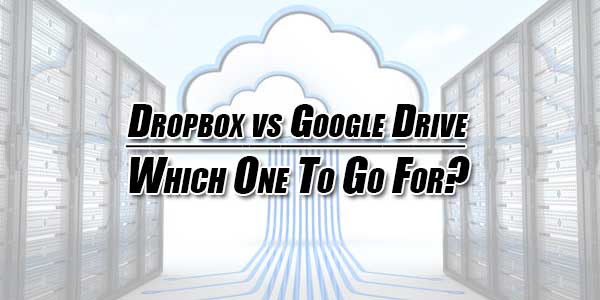 Who stores their important files in a USB Flash drives? External Hard Disks? In 2019, there are very few people who depend on storage devices when it comes to storing important files, especially that requires to be shared.
Therefore, they opt for cloud storages. Today, I will be comparing two of the Gaint Cloud Storages and help you decide which one is for you.
Google Drive:
It is cloud storage provided by Google. It can be used to store files, photos, videos and much more on the cloud. You don't need to particularly sign up to get this storage.
If you currently have an Google Account, then you already have cloud storage. You just need to login to Google Drive and start uploading your files. It is usually preferred for personal use. They give 15GB of free space when you sign up for Google Account.
It is also available on Playstore & Appstore.
DropBox:
Dropbox is another cloud storage option, which comes for both personal and business purposes.
It is the best option for businesses out there. If your work requires you to share files with others then it is the best option as it integrates with plenty of other tools essential for businesses.
It is simple to use, safe and secure and works everywhere. If you sign up for a free account on Dropbox, you'll be allotted 2GB of free space unlike 15 GB offered by Google Drive. We will get more into storages below.

What Are The Differences Between Google Drive & DropBox?
Google Drive offers 15GB of free space on signing up. The main purpose of Google giving this space is not limited to Drive. It is more of personal space.
All the Google products like Google Photos, Calenders, Contacts, Gmail and lastly Drive uses this space itself. That's how it gets a label personal space.
All the things from these Google products get synced to this free space offered by Google.
However, they also provide storages plan to upgrade but are available only in some countries.
If you're looking to take a backup of all your personal files then Google Drive is the best to go for.
It can also be used for work purposes and most importantly if you work on Sheets and Documents. You can easily create sheets and documents and share them with a simple link to other team members. All these documents and sheets are synced to this storage.
Google has paid options too. They usually allow you to purchase one using Google One.
They offer 100GB for $1.99, 200GB for $2.99 and a  whopping 2TB for $9.99. It is clear that if you don't want cool file management or you're ok with normal layout Google offers then it saves a lot of money for you while Dropbox can cause a huge dent in the pocket if you're planning to use for next few years.
Dropbox, on the other hand,  is for both personal or professional. It offers only a mere 2GB of free space upon sign up. However, it targets its service for professional work out there.
Dropbox offers integration with plenty of tools necessary for working effectively. More importantly, it offers an amazing file management system and is focused on work or businesses.
They currently offer three products, which are Plus, & Professional. The plus offers a terabyte of storage for $99 annually while professional offers 2 terabytes of storage for $199 annually.
If you just want to use it for storing your personal stuff or to have a backup of your stuff then it works too. Dropbox has a referral program which you can use to get upto 16 GB space for free if you refer 32 friends.
You get 500 mb free space per successful referral. There are different little hacks you can use to get these referrals instead of begging  your friends to sign up.
Dropbox is a home for all your work. It allows you to store and share files, collaborates on projects and works in a team. It allows you to manage team efficiently and also connect to all your favorite apps.
Both of the cloud storages are good for personal use, however, if you're looking for few GB's to spare for free, then Google Drive is the best as it gives 15GB free storage while Dropbox only offers 2GB while you can always get other 16GB on referring.
On the other hand, if you're looking to work in a team and managing as well as sharing is important then you should go for Dropbox.
Personally, I prefer Dropbox as it's file management is amazing as well as it doesn't have so many products interconnected like Google.