The elearning industry has grown a lot with the expansion of the Internet. This has opened the doors to many possibilities for both teachers and students. Anyone with skill and knowledge can nowadays create a course or a series of courses on a topic of their choice. Students, on the other hand, can consume online content via any platform.
With this course of action, numerous software tools were created to make the whole process easier for both sides. In this article, we are going to throw light on the potential of elearning n comparison to WordPress platforms. Let's dig a bit deeper and examine where these two different platforms currently stand.
What Is An LMS And Understanding Its Capabilities?
LMSs have been with us for several decades. Throughout that time, they have significantly developed with a single purpose: becoming the most sought-after tools that track performance and results of all those participating in the learning process. This type of development has made LMS software a necessity for every organization that plans to educate its workforce.
Additionally, formal education institutions (schools and universities) are implementing LMS systems due to the abundance of benefits they provide. These features and benefits are something we are going to talk in-depth later in the text.
With all this in mind, LMS software has become the pinnacle of computerized education, and the complexity of the whole system, that is, the number of features that it offers, is incomparable with any other type of software.
Now, let's take a look at WordPress and evaluate how it stands in comparison to an LMS.
What Is WordPress And Understanding Its Capabilities?
Everyone has grown fond of the WordPress platform. It is a truly remarkable system due to its user-friendliness. However, it was primarily created for easy website creation. Over the course of years, as numerous plugins were developed, the functionality of the whole platform has significantly increased.
Nowadays, there are different types of LMS plugins that add course specific details in the page creation process. This has allowed people to more easily establish their own online learning websites where they sell their courses. Due to its popularity, many use it for course creation and distribution.
The thing is that many people mix things like LMSs and online courses. An LMS is a robust system specifically created for delivering online courses. It is not even similar to what the WordPress platform is offering. How so? Well, creating a simple course does not imply creating an entire LMS. This is the primary difference between the two platforms.
When you are working with WordPress, you are only developing a course for your students. The courses are in no way dependent on each other, there are no pre-exams, post-exams.
On the other hand, working within an LMS allows you to establish a clear path that your student has to follow. Additionally, you are collecting an abundance of information that provides a detailed insight into how the students are performing.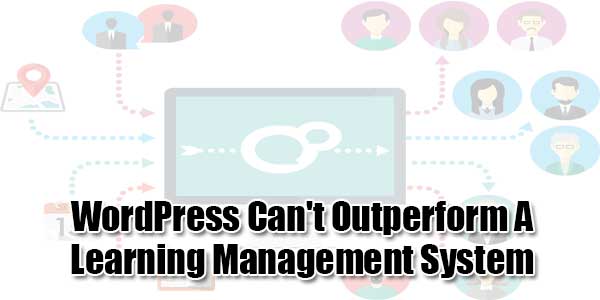 Let's take a look at the set of features that differentiate an LMS and WordPress.
SCORM 1.2 and 2004 compliance – Working in an LMS with this type of compliance means that any other LMS is going to work well with the created learning system. This is a very important feature for training creators, as their materials can be used across different companies working in different online learning management systems.
Course prerequisites – An LMS supports creating course prerequisites. This can mean that a person has to take an exam or a questionnaire before they enroll in the course.
Retake restrictions – This refers to the amount of trial that a learner took before failing an exam. This is important in formal education, as it pushes students to learn more and seriously approach the whole process.
Certifications – With an LMS tool, handing out legitimate certifications is easy to do.
Required and elective courses – LMS tools support creating required courses and elective courses. Schools, universities, and businesses rely on this type of education to ensure that the student is gradually building knowledge the right way. Building a hierarchy is easy within an LMS.
Grading – LMS tools support various types of grading systems. This is important for evaluating the student's performance. Usually, online courses created with WordPress do not have this feature.
Course catalog management – This is a very important feature, as it allows complete control over the course learning materials. Adding, modifying and removing modules is much easier with the presence of this feature. In the WordPress platform, this is a challenging task to accomplish, as you are building actual web pages, which are harder to remove and edit.
User progress and performance – This is one of the most important features that is supported by both platforms. However, the LMS approach goes much more in depth, making it possible to capture a variety of information about the student. Plus with the integration of an LRS, a variety of activities outside the LMS can be also captured and calculated into the student's progress.
Summing Up:
It is clear that this set of features shows why LMSs are always going to outperform the WordPress platform. It is simply a system that is specifically built for elearning. As WordPress was created with a different set of goals, it is clear that it can't outperform a learning management system.