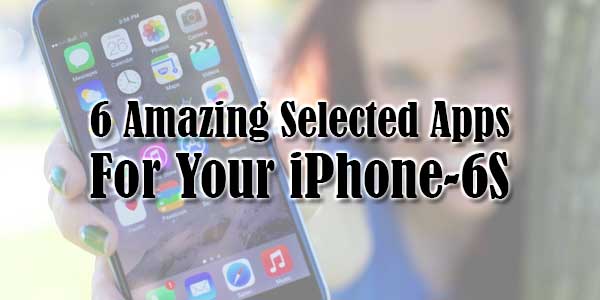 The iPhone apps are an essential part in the Smartphone system. That is from entertaining yet educational games to productivity apps. The new feature and enhanced functionality of the iPhone 6s is that it lets you get the latest and greatest apps upgrades. And that due to the much larger screen option, faster processor, and longer life battery. Moreover, the users can enjoy the efficiency given to the iPhone 6s, the enhancing entertainment, improving the messaging function, and the mini photoshop that allows you to edit your photos and videos in the new iPhone 6s.
1.) Empire In Warhammer: Snotling Fling:
Fans of Warhammer Fantasy setting might get a kick out of this week's free app, Warhammer: Snotling Fling. You take command of a group of Goblin Snotlings as you fight a campaign against the Empire. You fling your Snotlings across battlefields, hoping to knock down Imperial outposts and towns.
Snotling Fling features 70 levels of slingshot ting fun. Not all levels are unlocked when you download the game, however, and some require an in-app purchase. Also up for sale is teef, a currency that allows you to call down powerful magic, though it can also be earned in normal game play.
You may find the Warhammer: Snotling Fling free on the store on the iTunes.
2.) The Instagram App:
Instagram is a popular photo- and video-sharing app that requires only a couple of touches to take retro-looking pictures and then share them with friends and other Instagram members. With recent updates, the app adds video, letting you add filters and post to your feed much like you do with photos. It also got a new way to adjust brightness and contrast in the most recent update with a new Lux slider. But what's really special about the Instagram phenomenon is how users have used the app to create a story about their everyday lives through cool photos and videos.
You start by signing up with Instagram with an e-mail address, username, and password. Once you are connected, you will be able to snap a photo, move and scale the image, add an effect with merely a touch of a finger, and then share your photographic moment with the world. The app comes with numerous free custom-designed filters that can give your image various awesome effects, a grainy black-and-white look, or even adjustable tilt-shift options. There's also an auto-straightener that you can use to get your horizon right. An included slider also lets you fine tune the effect. For even more control, the latest update adds an adjustable Lux slider where you can when you are satisfied with your shot, you can add a caption along with geotagging, then share it right away.
3.) TuneIn Radio App:
It has an intuitive interface that makes it a snap to listen to streaming radio while you're on the move. It offers more than 50,000 stations and 120,000 shows from around the globe, plus, with the help of your iPhone's GPS, it can even serve up all of your local favorites.
Upon launch, TuneIn lets you drill down to exactly what you want to listen to. You can browse local radio, recommended stations, stations for different languages, and even podcasts. You can also choose from categories like sports or talk radio.
Like other radio-streaming apps, TuneIn gives you an enormous list of music genres to choose from, each with a long list of options from around the world, with local choices at the top.
4.) YouTube App:
The YouTube app for iPhone is the pillar app for browsing the site ever since Apple removed its version from the iOS, and personally, it has been a big improvement. But in the latest update, a redesigned interface and new picture-in-picture video feature that lets you watch while you browse makes the app even better.
Just like the Web site, with the YouTube app you'll be able to upload and watch videos, keep up with your favorite channels, browse your subscriptions and playlists, and much more. The app launches with a feed of videos that is a mix of videos from your subscriptions along with those recommended for you based on your watching habits. A search button in the upper right lets you search by video title, keyword, or tag, and also has a microphone button so you can say your search term aloud.
The YouTube video discovery section consists of a huge list of categories that are excellent for new video discovery. You can check out film and animation videos, music, sports, gaming, comedy, and really anything you can find if you were browsing the YouTube Web site.
5.) Google Search App:
The app offers a clean layout for searches; with the familiar Google logo on a white background as your home page when you launch the app.
Performing searches is where the app is good for. When you enter a word into the search box, Google Search shows the results you would expect of Web sites that are close to your search term, and now automatically gives you results based on where you live. If you touch a Web site link, the site shows up in a tab. If the site does not have what you are looking for, you can go back to your search results by simply swiping to the right of the Web site. Across the bottom of the search results are buttons to search Images, Places, News, Shopping, Videos, Blogs, Discussions, and Books. It is amazing how you can touch each to see what turns up for your search terms, and it takes almost no time to switch quickly through categories.
6.) Netflix For iOS:
Netflix app lets subscribers watch movies and TV shows in the service's Instant Watch library. While the streaming service's catalog is not nearly as strong as the Netflix DVD library, it's great to have the option to pick from several shows to watch on an iOS device wherever you are. What's more, in the latest version, iOS 7 users will able watch movies in HD.
You either are impatiently want to buy an iPhone 6s, or accessories. you will find what you are really searching for on Searchub. You simply log in to the web site, type into the search box a phrase such as Iphone 6. And if you also like some accessories of the same device, case or skin, all you have to do is type them to pop on to your screen.