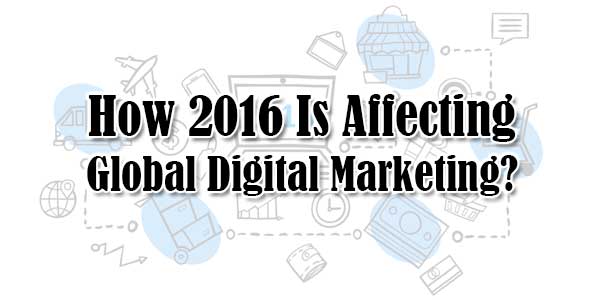 Digital marketing is already much more than mere clicking or posting photos to social media. As the Internet is becoming a more developed and subtler service, its tools and features are also changing with the times. Since new devices and technologies are introduced almost on a daily basis, people's habits on the web are becoming different and marketers have to keep changing their online focus. In line with all these trends, 2016 is already affecting the digital marketing on the global level.
Marketing Agenda Based On Data:
Modern marketing agendas should enable every businessperson and marketer to make their return on investment as high as possible. Thanks to the further advancement of analytics tools, in 2016 it will be possible to create more detailed agendas for your digital marketing goals. They can gather more data than ever before about their clients' habits, behavior on the web and their needs. What businesspeople need is getting closer to completely automated digital marketing. That way they will be able to focus on other business features. With every fresh innovation, they are coming closer to that goal. Entrepreneur's Jean Spencer has analyzed four most influential analytics tools, so have a look at it here.
Living In The Mobile World:
When you realize that the first smartphone in the world was the IBM Simon, introduced in 1992, it is simply unbelievable that only 24 years after that we have such powerful smartphones. The smartphonization of the world has opened so many lanes on the information highway that even marketers have problems following them. Today we can clearly say that the market of smartphones and mobiles in general is dictating trends in the digital marketing niche, especially since Google's Mobilegeddon in April 2015. With this algorithm change, Google made a pivotal turn in favor of mobile users. According to an analysis brought by the Wall Street Journal, 46% of mobile-unfriendly websites experienced a significant drop in rankings after that change. So, in 2016 you should at least launch an m-version of your site or, even better, redesign the existing website and make it responsive.
Growing Potential Of Videos:
With the wider availability of DVD and, lately, Blue-Ray systems, the marketing potential of video materials has grown immensely. It has definitely skyrocketed with the simultaneous development of camera-equipped gadgets and social media. In 2016 business owners and marketers should rely on videos more than ever before, due to their outstanding possibilities. For instance, introducing the 4K videos to your digital marketing planning, in addition to traditional the HD-standard, could awaken more interest for your business in your customers. By showing that you are modernizing your digital marketing, you will leave an impression of a progressive and successful business. Read more about making creative 4K videos here.
Continuous Website Progression:
Due to the fast-paced growth of the entire digital market, websites need to be improved from time to time. The rule of thumb when it comes to website redesign is that a website should be given some new blood every two years. Redesigning your website is necessary to stay responsive to new algorithms, as well as to keep pace with new net standards. Since new visual options are getting more available, users are also becoming more demanding. So, 2016 is definitely the year of UX/UI assessment and the future will only make these website testing procedure a must-do standard. Such a large number of conditions for a successful website require a lot of work from website owners. What they can do, however, get professional advice for their website content. Today you can choose from companies based in the Far East to Sydney Digital Agency options and ensure the best web design service. Getting the right advice from the right people could make your online presence a real treat.


You know those videos in which wealthy businesspeople are standing next to their fireplace and talking about their business success? They do that to show the audience their human side. By weaving a story around your business and your ideal personal life, you engage your audience emotionally and invite them to become a part of your world by opting for your products. Making storytelling part of your digital marketing strategies is supposed to converse more people to become your devoted clients, so Forbes marketing masters have made an insight into the world of marketing storytelling and its benefits.

Accepting and implementing the digital marketing trends for 2016 is the key precondition for getting ready for 2017 and other years that will follow. Follow our guidelines, but open your mind, to, and come up with new ideas that will ensure your survival on the competitive digital market in 2016.