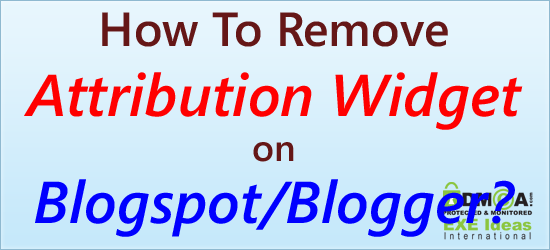 In all blogger templates, you can find out the attribution widget bottom of the blog. The attribution widget is the gadget in the footer that says "Powered by Blogger". If you have tried to remove this widget then you may notice this widget is locked into your blog. If you want to remove the attribution widget then follow my instructions.
It is very easy to remove the attribution widget into the blogger template. We all know that Blogger is a Great Platform where we can Show Our Influence of designing. The attribution gadget at the footer of the blog and says "Powered by Blogger".
The gadget is locked, when you click on the edit link of attribution gadget you will notice that there is no Remove link Because the gadget is locked officially by the blogger. If You Want To unlock the gadget follow my below easy steps carefully.
Now Follow These Steps: If you want to remove this Attribution widget at "Design > Page Elements", you see that it can be edited…

But unlike the other normal widgets, you won't be able to remove the Attribution widget because it doesn't have a "Remove" button.

If you insist on removing the widget, here are the steps to remove the attribution widget on Blogger. It's pretty easy and understandable.
How To Remove Attribution Widget on Blogspot/Blogger?
First, go to Design > Edit HTML > Tick "Expand Widget Templates". Search for the word "attribution". By Clicking (Ctrl+F) In Chrome For Search Option

When you see the Attribution widget code (refer to image above), change the "true"  to "false".
Go back to Design > Page Elements.

Since the lock function is disabled (by changing the code to "false"), it's movable and can be removed as well. Click on "Edit" on the Attribution element.
And now with the "Remove" button available, you can finally remove the Attribution widget for good.

Warning:
I have not checked the Blogger Terms and conditions to find out whether you are allowed to remove the attribution. Even if they don't mention it today, a requirement to keep the statement could be added tomorrow. This advice does not mean that I, or Google/ Blogger, are saying that you should/can/may/must remove the attribution statement.
Troubleshooting The Errors:
Do it with concentration and patience. Check your alls steps and again and all codes or scripts. If you find any error you can contact us anytime via comment or better via email, We are always here to help you.
Last Words:
That's all we have. We hope that you liked this article. If you have any problem with this code in your blogger template then feel free to contact us with a full explanation of your problem. We will reply to you as time allows us or If you have any doubts and problem please comment below. We are happy to help you!
If you liked this article, Don't forget to share this with your friends so they can also take benefit from it and leave your precious feedback in our comment form below. Happy blogging, See you in the next article.