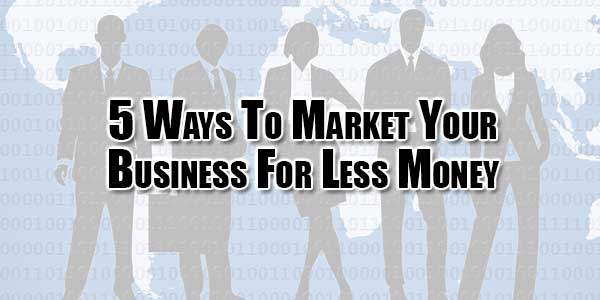 Marketing your business can be extensively difficult when you don't have a huge amount of cash in your hands. In order to grow effectively, you need to get your business out there and there find ways to save money for your business. Being on a budget can definitely limit your options when it comes to advertising your brand, but the truth is that there are ways to do it without spending so much upfront.
Gain Coverage On Your Own:
The truth is that you can do a lot of work on your own. You can easily create a local awareness by utilizing the local papers, websites, online marketing strategies, and even trade magazines. You don't have to work with a top public relations firm in order to get the word out about your business. Your own creativity can take you a long way to get cheap marketing done. Also, while you are working on building your brand you want to make sure that you are also seeking financial help. If your business is struggling financially it is a really good idea to seek help from different types of software. Software like this can really help you save money and time. Though building your brand on your own is great, working with a dedicated team like a financial service software developer will really be worth the investment.
Email Marketing:
If you want to stay connected with your clients, email marketing is the way to go. It can allow you to reach your customers and stay in contact with them via email. GetResponse and Aweber are two very powerful websites you could use for things like this. Aside from email marketing, SMS text message marketing is something you can also do where you update clients weekly on discounts and specials via text messages. SMS marketing costs more than email marketing, but it's worth the investment.
Flyer Ads:
With a couple bucks, you can have several flyers printed from a site like Fiverr. You can even recruit other people to pass them out for you or place them on cars. This small way of advertising can slowly get the ball rolling for your business. To simplify things you could even print flyers via a service provider like VistaPrint and have them mail the flyers to you for very affordable fees. It's an easy way to get your name heard with ease.
Social Media:
As much as you would think these social networks are meant for just social networking, many people utilize social media daily to create powerful marketing business plans. It is vital that you use Facebook, Twitter, YouTube, YouNow, LinkedIn, and every other social network out there to build your audience and following. You want to build better awareness, and oftentimes it is something you can do without hiring somebody for. You can do the job all on your own. Reddit for example can be a place to create viral content and build your company's presence.
Be Creative:
The web is just one of many places to get creative. You don't need to do just basic flyer marketing. You can try to join local contests and offer a product of your company's as a prize. Give away balloons at local events to build awareness. You can also host an event or class teaching people about ways they could learn about your market or industry, and use your company to be the solution to their problem. If you want to be a more locally known business, this is the way to go. Obviously, a worldwide empire must use the power of the web to reach more people.
Overall, building a business does not need to be expensive. You just need to work hard on using the resources that you have effectively. The tricks above will help your brand grow successfully.