Motorola introduced their two powerful units just last year. The tech company promises that both units can keep up with other smartphones that are being offered in the market. They have different and upgraded features that consumers might find it appealing.
Let's review their feature from software to hardware:
Hardware, Software, And Storage:
Moto Droid Turbo: Powered by quad-core Qualcomm processor with 2700 MHz and supported by Snapdragon 805 processor. The phone runs through an Android OS version 4.4.4, or Android KitKat and set to upgrade to an Android 5.0 Lollipop. The device offers any card slot, but an option to choose between a 32GB or 64GB internal memory with a 3GB of RAM.
Moto X: It runs through an Android KitKat OS that can also be upgraded to Android 5.0 Lollipop. The device is powered by a quad-core Qualcomm Snapdragon 801 along with 2.5 GHz and Karit 400. An option to choose from 16/32/64GB internal memory with a 2GB of RAM.
Physical Features:
Moto Droid Turbo: It gears up a 5.2 inches size, along with its SUPER AMOLED capacitive display armed with 1440 x 2560 pixels resolution and 565 ppi pixel density. All in a protected screen made of Corning Gorilla Glass 3. The device has a rugged look with two distinct designs to choose from: a black or red  traditional Kevlar-weave cover or a black back that made of ballistic nylon.
Moto X: Same 5.2 inches size but an AMOLED display with a 1080 x 1920 pixels resolution and 424 ppi pixel density. The phone features a sleek and customizable design as it offers an array of colors and materials to choose from.
Camera:
Moto Droid Turbo: The 21-megapixel primary camera with a dual-LED flash is one of the highlights of the phone. The 2-megapixel secondary camera is good for selfie.
Moto X: Its 13-megapixel primary camera has dual-LED flash. The front camera is also 2- megapixels.
Battery:
Moto Droid Turbo: The device contains a non-removable Li-Po 3900 mAh battery.
Moto X: Features a Li-Ion 2300 mAh battery.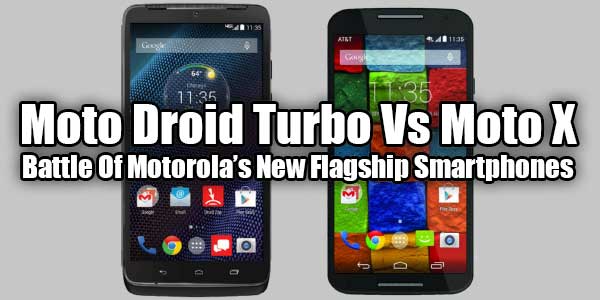 Price:
Moto Droid Turbo: Verizon Wireless offers the device for US$249.99 and US$649.99 at Amazon.com
Moto X: AT&T offers the unit for $99.99 with a contract or you get it for US$761.24 at Best Buy.
Extra Features:
Moto Droid Turbo and Moto X features a fast battery charging that will give the phone 60 percent battery life in just 30 minutes. Both devices are near field communication (NFC) supported.
The Turbo Charge for Moto Droid gives an additional eight hours of power for just 15 minutes.
Both devices feature Droid Zap that allows fastest and easiest way of sharing photos and videos.
Moto Actions, Moto Voice, Moto Assist, and Migrate are part of other Motorola apps.